Boy Brides Ch. 6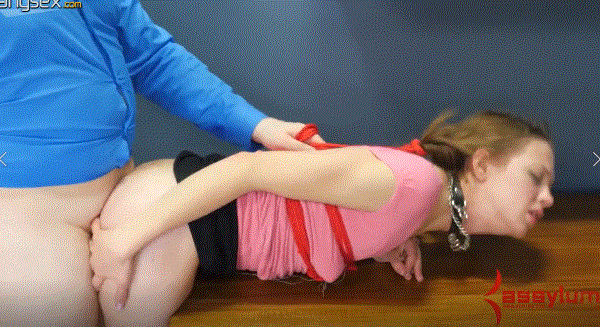 Public Punishment Part Two
"If I thought my punishment was over and I would be allowed to redress and then find the girls, I could not have been more wrong."
"The window needs to be cleaned," said Mandy pointing to my semen still streaking down it.
"So, I asked for a cloth but one was not available."
"Who needs a cloth when I'm told you have such a fine tongue. You have to lick it clean, starting at the highest blob so that your naked body is on full view to the passing public."
"I asked if she was joking, my cock now diminishing in size and the earlier bravado gone with my orgasm. Her answer never came as we were interrupted by a knock on the door.
"I recognised the voice of Claire saying she was the cleaning lady and Mandy let her in. She was minus her coat again but had gained a long bridal veil which trailed across the floor behind her. I looked at her, her lovely pert breasts, her neatly trimmed pussy hair and then the light blue eyes. She looked at me, her gaze dropping to my drooping cock."
"I brought my bridal gown because I thought you wanted me but it seems I've wasted my time."
"I shrugged my shoulders and tried to hide my predicament with my hands. You and Laura got me so excited walking down the street in the nude, was all I could offer as an explanation."
"Of course the pair of you could always do an oral show in the window and see if you can get his cock up for a fuck later," Mandy suggested as she nudged Claire forward.
"Lie on the floor just in front of the table and we'll see if her veil has any effect as she walks astride your body," Mandy continued.
"I took a bit if cajoling until the threat of a brown envelope to my mother changed my mind. I lay down as directed and looked up the street. It was fairly empty although some people were walking past. Claire seemed unconcerned about having to walk across the front of the window."
"Laura and I love being nude in public. It's great fun and so exciting as we surprise lots of people, so this is nothing," she said positioning herself beyond my head.
"I looked up as she began walking and got a close up view of her cunt as she crouched down directly above my face. Claire continued her walk, the trailing veil sending minute shudders through my body and a late eruption of a few drops more cum when it glided over my cock. Turning around to return she followed instruction from Mandy and stopped and sucked my limp dick and the leakage. This and the veil still failed to gain a positive response from my cock."
"Maybe we need a bride."
"Mandy opened the door and in walked Laura in an exquisite bridal gown, shimmering sequins all over the bodice, the skirt full and exposing her petticoats as she walked in. Frills around the short sleeves and a ruffle train fit for casino oyna a princess. I just lay there and watched her approach, rustling and swishing loudly, from my position on the floor.
"Gracefully Laura walked astride me and I felt the sheer magnificence of her gown as she did so. It was a tremendous buzz, her train seemingly endless as it trailed across my cock, still to no avail, even on the return.
"Mandy made another suggestion after I tried to explain that I had only ejaculated ten or fifteen minutes previously and I'd never been expected to perform so soon after, before."
"Madame Margaret has you earmarked as a future stud. We don't get many ten inch cocks around here so consider this as training for the future."
"I climbed onto the table as instructed, my concern about being in front of the window and so public now overshadowed by my concern at being unable to respond to the beautiful girls around me. I lay flat out with my head right on the edge of the table as directed. Claire followed me onto the table and had to position her knees on either side of my head with her pussy directly above my face. She had removed her veil and it was used to prop my head up a little and so give my tongue access to her pussy. At the other end I could feel her hot breath on my cock and then her tongue flicking across my testicles. Then I felt the soft touch of a veil on my balls immediately followed by the feeling of a second tongue working on my droopy cock.
"One of them sucked the whole of it into her mouth and began to gain a small response. Then I heard Laura swish past me and next thing I knew I felt her dress and veil against my head. I looked up to see her pushing her tongue into her sister's open cunny. Frequently our tongues clashed as we licked Claire who was still sucking some life into my cock. I was most disappointed when Laura stopped after only a few minutes and declared I would definitely not be unable to fuck her sister and she would do it instead.
"I watched, upside down, as Mandy helped undo her gown, reveal her tits, then undid the fastenings at the waist to push the white mass to the floor and give me a huge shock. Laura was wearing a large strap-on dildo and proudly stood in front of the window showing it off to me and anyone else who cared to look in at us. Instantly I panicked when I saw a drunk woman and man pointing and making faces at us. I made the girls aware of our audience but Mandy said "that it didn't matter because we had to complete our punishment. Anyway they are so drunk they will have forgotten by the time they get around the corner."
"Next thing I knew the dildo was above my face and I had to kiss it as Laura offered it to her sister's moist cunt. Mandy instructed me to keep my tongue in position and use it to clean the dildo each time Laura withdrew canlı casino and then pushed back in again. I could not have been closer to watching the two girls fuck and my cock was beginning to respond positively.
"The dildo moved in and out gently, stretching Claire, and I received some tasty fluid on each stroke. I was becoming used to the rhythm when it suddenly stopped and I looked up to receive the greatest shock of them all, a naked man, a man I had never even seen before and he was having his thick erection stroked by Laura."
"So you wanted to fuck my Claire without my permission and now you have failed to satisfy her. What a pity, because when she gets so randy all she wants is to be fully satisfied, so just watch this."
"The man, who was obviously her Sugardaddy, Robert, stepped forward and slipped his cock into Claire with relative ease and I was instructed to continue using my tongue as before. The rhythm was much less relaxed this time and Robert was soon pounding into her, her hot breath gasping onto my semi erect cock as it grew between the mouths of Claire and Laura who had now joined her.
"Each stroke Robert took, his balls hit me in the eyes, and when I made to move them with my hand he began to demand that I play with them as he fucked. I knew what was going to happen soon and sure enough he began to furiously fuck her until he orgasmed into her and then pulled back to let it continue spurting over my face. He deliberately directed his shots at my mouth and forced his still erupting cock into my throat. When he was finished I could feel a tongue on my face clearing the cum from my eyes until I could see Robert standing watching with a smirk on his face before he directed Laura to clean his diminishing dick instead.
"He began to issue orders."
"So you and Claire fancy fucking each other in bridal gowns, the ones I buy her no doubt. Well instead you can do it in the nude with an audience and just remember this as you do so. These girls are my girls. You can fuck them sometime when I decide, not when you both take a fancy to each other, but you will always come after me."
"He laughed at the pun as Claire was instructed to mount me in such a way that we could remain coupled together as we climbed off the table to face the window. As I leaned against the desk Claire was forcing her body onto mine and thrashing herself against me. I was looking over her shoulder as both of us faced the window.
"Laura meantime was kneeling on the floor between our open legs and licking her Sugardaddy's cream as it was forced from Claire by my fully erect cock. Our audience on the street was still the drunk couple dancing about in front of us. Further up the street they had been joined by Mandy with a camcorder and she was filming us in action. I was at last fucking Claire, kaçak casino not exactly as I had planned, naked in an office window rather than both of us in huge bridal gowns in the fitting room of my mother's shop.
"Still embedded in her she managed to turn around to face me, a chance to look at her, those baby blue eyes that had so much attracted me to her, those gorgeous breasts, shaking like jellies. I entered the enjoyment of the occasion and pounded my cock into her when she rested. Her arms went around my neck and she pulled up her legs and wrapped them around me."
"Walk forward to the window," came the voice of Robert and I did so without question because I was really enjoying myself.
"I walked forward until just a few feet off the glass and turned sideways on so that we could look out at Mandy. I wasn't permitted to come until Robert received a phone call and then he instructed me to make it quick. As I began ejaculating into Claire I was told to look out at Mandy. I nearly died.
"There, between Mandy and the window, was my mother walking to the car park to make her way home from the shop. Laura, still licking any cum running down our legs, held me still and as my mother looked in our direction I was filling Claire with my hot cum. I was beside myself with worry but made to remain in position until my cock had been cleaned by both girls.
"When we eventually left the office I was obviously still very concerned, made even worse by the suggestion by Robert that he intended releasing a video of my performance. How would I enter the house not knowing if my mother had recognised me or not?
"You don't have to worry about that for now," Robert announced and continued. "We're going for a few drinks and then to her shop to find new bridal gowns for you're next assignment with my two kinky girls, so get the keys out."
"We left the building and walked into the street in the direction of the shop, passing the window as we went. I wondered why everyone was crowding around me until they turned me around to face the window.
"I was stunned. Suddenly it dawned on me. The mirror into which we were all looking was the other side of the window where I had just had sex. A huge smile lit up my face as I gazed at our reflections. Once upon a time the pavement had gone through the arch, which was now the window, before the area had been developed and the office Robert had access to, was constructed. The architect had decided to leave the large arch and fit a ceiling to floor mirrored window. So the drunk couple had been looking at themselves and having a laugh. My mother and the others who glanced our way had only been looking at themselves.
"It was a massive relief and I celebrated by being extra daring on the precinct at the shop as darkness fell.
"A video entitled 'Kinky Brides in the Window' was released to KBG members and, shot from behind us, it really did look as if we had a public audience. I and the twins became pornstars and had many more sexy encounters instigated by Robert."